Updated Resources and French Website
Coming Soon
---
What is Catholics for
Truth and Reconciliation?
Catholics for Truth and Reconciliation developed from a grassroots Facebook group of approximately 2200 Catholics across Canada (as of July, 2023). This group desire to engage in the work of truth and reconciliation along with Indigenous Peoples. It is by no means a homogeneous group. There are many different perspectives and opinions held by group members. However, our common denominator is an acknowledgement of the profound damage caused by the Catholic participation in Residential Schools for Indigenous Peoples across Canada. There is so much good work being done in dioceses across Canada, and there is a desire to work alongside our churches to support pre-existing initiatives and to become instigators of new ones.In June of 2021, seven members of this Facebook group came together to establish a nation-wide campaign. We invited Catholics to commit to truth and reconciliation
efforts through financial donations and other forms of concrete action. Between July and October, 2021, the campaign raised $27,275. Funds were donated directly to three Indigenous-led organizations working in truth and reconciliation.Though the fundraising campaign itself is now closed, this website remains as a resource that provides important information regarding the Calls to Action given by the Truth and Reconciliation Commission. It also provides information regarding the commitment of the Canadian Bishops to reconciliation, both monetary and otherwise, and suggestions for concrete ways that Catholics can personally participate in ongoing reconciliation efforts.
To Fellow Catholics Across CanadaThe recovery of graves associated with the dark legacy of Canada's residential schools has shaken the whole country. As Catholics, we know that upholding the dignity of the human person, created in the image and likeness of God, is central to our faith. We acknowledge that this central tenet of the faith was violated by those involved in the Residential School system and in the wider abuses that Indigenous peoples have suffered through colonization.Catholics have inherited this legacy of participation in the evils of Residential Schools and the suffering and destruction of Indigenous peoples and their
spirituality, culture, and language. Catholics for Truth and Reconciliation recognize that we are called to engage in the Truth and Reconciliation process
and work towards healing.This website is an invitation for Catholics to ignite or deepen our commitment to Truth and Reconciliation alongside Indigenous peoples through donations and action. We hope you will join in this important work.
To Indigenous PeoplesThose involved in Catholics for Truth and Reconciliation acknowledge that the Catholic Church participated in a legacy of suffering, and Catholic settlers can, for better or for worse, continue to impact the lives of Indigenous people, families, and communities.Catholics for Truth and Reconciliation acknowledge and understand that not all Indigenous people want or are ready to be reconciled with the Catholic Church.
We also acknowledge the many Catholic Indigenous people who carry particular burdens and gifts as we endeavor to do this work together.Catholics for Truth and Reconciliation do not speak for the whole church, but we are ready to individually and collectively deepen our commitment to Truth and
Reconciliation.This is the biggest wound in our shared history, and we know that Reconciliation will be complicated, messy, and painful. We have much to learn.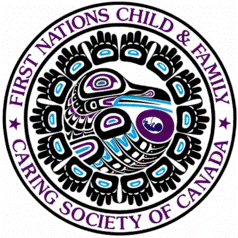 The First Nations Child and Family Caring Society of Canada provides
reconciliation-based public education, research and support to promote the safety and
wellbeing of First Nations children, young people, families and Nations.
---

Reconciliation Canada is leading the way in engaging Canadians in dialogue and
transformative experiences that revitalize the relationships among Indigenous peoples
and all Canadians through reconciliation dialogue sessions & action plans, economic
reconciliation & action plans, reconciliation-based leadership training & core
competencies assessments and public awareness & education.
---

Returning to Spirit empowers individuals to reconcile their past in the present to
transform the future in order to bring Canadians together in a spirit of mutual respect,
trust, and equality to create reconciliation, possibility, and responsibility.
---
94 Calls to Action
At the closing of the Truth and Reconciliation Commission, 94 Calls to Action were released as
a roadmap to reparations and Reconciliation. The 94 Calls to Action can be divided into two
parts: Legacy (1-42) and Reconciliation (43-94). The Legacy actions focus on elements or
consequences of Residential Schools that have continued into the present and need to change.
The Reconciliation actions focus on the new relationship we need to bring forth in Canada and
how we can get there.
This page offers you information regarding the history of the Indigenous peoples of Canada,
colonization, the Indian Act and Treaties, residential schools, and more. It is structured around
the Calls to Action of the Truth and Reconciliation Commission. Please go through the
material. Helpful material can also be found at the First People's Law organization. To engage
in healing and reconciliation, we need to know how we arrived at our present situation. The first
and most important things we can do are to learn and listen. If you have resource suggestions,
please contact us.